Château du Cèdre, Cahors
Château du Cèdre, in the heart of the Cahors appellation, must be regarded as the region's leading light; the refined Malbec grape reaches new heights here. Deep, dark and elegant, Pascal and Jean-Marc Verhaeghe's wines reveal the superb terroir of the estate. More...

£30.00
(Bottle)
2010 Chateau du Cedre Cahors 'Le Cedre'
Top flight Cahors from the spectacular 2010 vintage.
more details...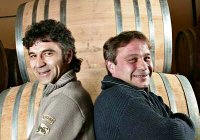 The estate is essentially organic without having the Ecocert stamp on the label. No herbicides are used, there is no spraying against rot and only organic compost is used. Lutte raisonnee and lutte biologique since 1988. A small amount of Tannat and Merlot (5% each) is used in the regular cuvée (formally called "Prestige") but the flagship wine "Le Cèdre" and fearfully expensive (but worth every penny) "GC" are 100% Malbec (or Auxerrois, or Cot, take your pick).
The estate is on the Lot Valley's second terrace and is divided into three parcels comprising the two better soil types found in the Cahors region. The biggest parcel of 12.5 ha to the east with a south-western exposure is chalky and rocky which contributes to the heat and water levels, yielding wines with very fine tannins and very long. The other two parcels of 5.5 ha and 7.5 ha, both south-facing are covered with galets mixed with reddish ferruginous sand at the surface and clay with flint below; the wines are stronger and more alcoholic.
We have visited Pascal on several occasions, looking around the vineyards and cellars as well as tasting the wines. It is immediately apparent that he is a dedicated perfectionist in all aspects of his work. He experiments with different oaking regimes - certainly there are critics who feel he went too far with new oak in the early part of the last decade but they should check back: he now uses larger barrels and is gradually bringing in new foudres to obtain all the benefits of barrel ageing but with less flavour imparted by the oak. The resulting wines are showing more finesse as a result. No doubt Pascal will continue to think up yet more ways to try to make his wines even better in future but for now they are quite good enough!
See also: South-West France Cahors Château du Cedre
You must be aged 18 or over to purchase wine.
© The Big Red Wine Company, Barton Coach House, The Street, Barton Mills, Suffolk IP28 6AA, UK. Tel +44 (0) 1638 510803

Site design by GOL