Wine and Food Tours in SW France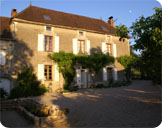 Wine Tour: Cahors Wine Tour 4 night break

Discover the original malbec grape with a wine tour of the wonderful AOC Cahors vineyards in SW France.
This 5 day/4 night short break is fully escorted and transport is by minibus. All meals are included in the price - you just have to get here and enjoy it all!
Hailed by wine critics as the 'latest trend', the 'black wine' of Cahors is in fact one of the oldest of French wines, having been first introduced by Roman Emperors more than 2000 years ago.

There are over 200 domaines but still only 4,000 hectares laid to vine in the area permitted by AOC standards, which makes Cahors a comparatively rare French wine and is probably why it's so difficult to find. The quality however is without doubt the very highest. It still graces the finest restaurant tables and dining rooms in the world, but it's comparatively inexpensive - at the moment - so now is the time to invest in some!
We'll plan and take care of everything for you. You just get to relax and experience a few days enjoying the beautiful Cahors vineyards, eating fabulous food, drinking fantastic wine and staying in a lovely location!
All dates - £795

For more details of our wine tours please visit: www.winetoursfrance.net



French Cycling Holiday: Gastronomy of the Lot and Dordogne
This is cycling for foodies at is best! You are invited to explore the beautiful and unspoilt Lot and Dordogne area of France and at the same time discover the wealth of wonderful food and wine that is the gastronomy of south west France.
As you cycle the stunning routes you'll visit local artisans who will happily demonstrate their particular skills to show you how their product contributes towards the magnificent gastronomic reputation of the region.
AOC Racamadour cheese; le Croustilot - the speciality Lotoise crusty bread; duck in all its guises; truffles, walnuts and wild mushrooms, and, of course, the famous 'black wine' produced from the original Malbec grape of AOC Cahors.
All are signature products of the regional gastronomy and all will be discovered, experienced and enjoyed on this fabulous cycling tour for foodies!
All your meals are included on this tour and you'll enjoy lunches either at great local bistros and auberges or as gourmet picnics, freshly procured from nearby weekly markets.
Dinners are mostly 4-course gourmet affairs with wine taken at Mas de flory or, on two occasions, at excellent nearby restaurants.
All dates - £1375
For more details of this and our other cycling holidays please visit: www.lotcyclingholidays.com
On both of these featured holidays you will stay at our lovely converted 18th century barn nestled in the tranquil, wooded countryside of the Bouriane, between the Lot and Dordogne rivers in sunny south west France
.
Mas de Flory is situated on the edge of a small village with a bar, shop, post office and auberge, and is surrounded by lovely countryside with peaceful, far-reaching views.

We are in a beautiful and unspoilt area of France - the Lot is one of the largest and least populated departments.
From here you can explore the widely varying terrain from lush river valley to gently rolling countryside, to shady green forest and rocky limestone causse.
We offer wine tours, cycling and food holidays.