"Patrick Ducournau is probably the most influential winemaker in the entire Southwest" (Andrew Jefford, The New France, Mitchell Beazley)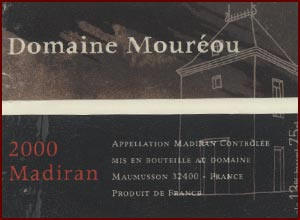 There are 18 ha of vines at Mouréou near Maumusson which Patrick Ducourneau inherited, having previously been worked by his father. The estate produces two quite different Madiran wines: Domaine Mouréou, an easy-drinking wine, and Chapelle Lenclos, a bigger, more classic Madiran.
Patrick Ducournau is best known for micro-oxygenation, a technique he developed to simulate the effects of ageing wine in barrels and racking periodically without imparting any wood flavour (although it does not preclude the use of barrique). Tannat-based wines stored in stainless steel are prone to reduction problems (not least an unpleasant odour) but many winemakers do not want oak flavours interfering with their wines so a solution was needed. The trick of micro-oxygenation is to pass a very fine stream of oxygen bubbles through the wine either during or after fermentation enabling the wine to breathe in the same way it would in barrels. This has the effect of softening tannins although there is other evidence to suggest it develops structure in young tank-matured reds. Certainly it makes highly tannic wines - such as those from Madiran and Cahors and other parts south-west France - drinkable at a much younger age than in the past. One result of this development is that Patrick Ducourneau has found himself much in demand throughout the region as a consultant. As such, he leaves the day-to-day running of the estate to his cousins, the Laplace family of Château d'Aydie.
These are wines widely regarded not only for the pleasure they undoubtedly give but also for their health benefits: when consumed in moderation (of course), Tannat-based wines are considered to be at the heart of the French paradox (see Roger Corder's The Wine Diet). The high fat content of the South-Western diet (lots of duck and foie gras) is, it seems, countered by the high procyanidin content (higher than any other variety). Dr Corder recommends around half a bottle for men and a third for women to be consumed daily with food. He describes Chapelle Lenclos (out of stock) as one of his favourite Madiran wines (along with Berthoumieu's "Charles de Batz" and gives it an outstanding ♥♥♥♥♥ rating which means a 125ml glass has at least 120mg procyanidins, the polyphenol he has identified as being responsible for the French Paradox). For more about this, I thoroughly recommend reading Dr Corder's book or for a summary, read my notes from a lecture I attended - see here.
Click for more about: South-West France Madiran
Object required
Sorry, but a serious database error occurred. It is not possible to continue. Please report to error to support.

Cause was: Failed to open record

SQL was SELECT * FROM wines WHERE (estate = 'Domaine Moureou' OR estate = '' OR estate = '' OR estate = '') and NOT (id in (SELECT DISTINCT id FROM wines WHERE no_stock_1=1)) order by bottle_price