Domaine des Sept Chemins, Crozes-Hermitage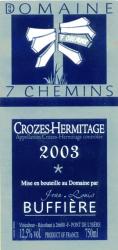 Over the past couple of generations, the 12 hectare estate of Domaine des Sept Chemins has perpetuated tradition and expertise in its production and vinification of a red (90% of production) and white Crozes Hermitage, which have received numerous awards. Controlling the temperatures during the entire vinification, enables oenologist Jean-Etienne Guibert and proprietor Jean-Louis Buffière to extract exceptional flavours.
The 12 hectare Sept Chemins estate is at the centre of the Chassis plain and there is, as the name suggests, a seven-road intersection. Syrah vines at least 30 years old are planted in four plots on mostly gravelly (some sandy) soils. Hand-harvesting, 20 day vinification using natural yeasts and regular pumping over. Maximum fermentation temperature rarely exceeds 28°C, usually 25°C is preferred to lengthen the fermentation. A small amount of new oak is employed, though most of the barrels are in the second, third or even fourth year. Oak is not evident on the palate.
Produced from 100% Syrah, the red Crozes Hermitage with slightly oaky notes and boasting a ruby colour, goes perfectly well with red meat and game. Domaine des Sept Chemins ages its wine in barrels for a year, and controls all production steps through to the in-house bottling of the estate's wines. That said, a large part of the production is still sold off to Meffre and Guigal for their Crozes-Hermitage wines.
Click for more about: Northern Rhône
Sorry, no wines were found to match your criteria but please see our En Primeur page as we may be shipping wines for this producer.
You must be aged 18 or over to purchase wine.
© The Big Red Wine Company, Barton Coach House, The Street, Barton Mills, Suffolk IP28 6AA, UK. Tel +44 (0) 1638 510803

Site design by GOL