I Campi di Flavio Prà, Veneto
A new find for us in 2017, i Campi ('The Fields') is the personal project of Veronese oenologist and winemaker, Flavio Prà.. More...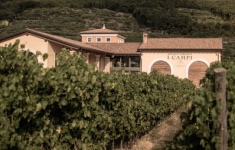 The name 'i Campi' is intended to convey the idea that, for Flavio, the land is paramount. However, he also wants to tap into to the essence of each variety and to achieve the most expressive character from them all. The vineyards are all located at an altitude of at least 250 metres and they are strongly affected by the proximity of the Mont Lessini hills which dominates the plains of Verona and Vicenza. The steepness of the hills (up to 35%) necessitates terracing to prevent further erosion and movement of the soil. The valleys that run from Lessini create air currents which are an integral part of the terroir here.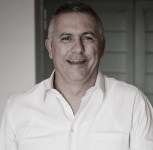 The Soave Classico comes from Campo Vulcano on the south-southwest facing hill of the Monteforte d'Alpone cru vineyard which is characterized by thermal excursions and by soils based on volcanic stones typical of the DOC. These are soils that produce grapes with high sugar and acidity above the norm for Soave but the black basaltic stone also lends the wines excellent minerality The red wines come from the area around the river Progno where gravel and sand dominate the deep well-drained soils. Wines from here are characterized by intense aromas with spicy sensations.
Amarone specialist Michael Garner (author of 'Amarone and the Fine Wines of Verona') wrote in Decanter Magazine that 'Two valleys in particular in eastern Valpolicella show tremendous potential. Wines from Mezzae di Sotto and the Val d'Illais (I Campi) can rival those from Classico and offer an intense, structured character which promises longevity'. Our (so far fairly limited) experiences of these wines suggest they have a very bright future indeed.
All the wines were highly rated by Jancis Robinson (see jancisrobinson.com) and have long been praised by Gambero Rosso, the ulitmate guide to Italian wines. Indeed, the Soave 'Campo Vulcano' regularly wins the top Tre Bicchieri award and the 'Campo Ciotoli' 2015 was the only Ripasso to achieve this in the 2018 edition.
See also: I Campi