Pierre Gaillard, Malleval
One of the pioneers of the Northern Rhone, Pierre Gaillard produces a wide range of wines of exceptionally high quality. More...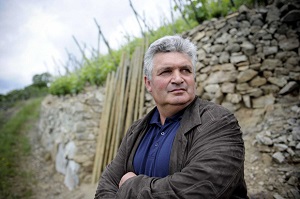 After graduating from Beaune and Montpellier, Pierre worked as vineyard manager in Cote Rotie before buying his first plot in St Joseph, 'Clos de Cuminaille' in the village of Malleval where he subsequently established his winery and home. Over the years he has added considerable holdings and now boasts an impressive range of wines from appellations all over the region including Condrieu, St Peray and St Joseph for white wines, Côte Rôtie, Cornas and several sites in St Joseph for reds. He now farms 25 hectares of vineyards on steep slopes of decomposing schist (Cote Rotie) and granite, producing 120,000 bottles of wine from Syrah, Viognier and Roussanne.
In 1996, Pierre began a collaboration with two other highly regarded growers in the area, Yves Cuilleron and Francois Villard, in a project to re-plant the Roman vineyard at Seyssuel, considered to have potential as great as the top sites of Côte Rôtie. The three men share three hectares under their 'Vind de Vienne' banner but each have a hectare from which Pierre produces the astonishing 'Asiaticus' cuvee (named after Decimus Valerius Asiaticus, a first century Roman senator from Vienne).
More recently, Pierre has established estates further south: in 2002 he bought Domaine Madeloc in Banyuls-sur-Mer (Roussillon) where he makes Collioure and sweet Banyuls wines and five years later, Domaine Cottebrune in Faugeres where the white wines are especially good.
See also: Pierre Gaillard Domaine Madeloc Domaine Cottebrune
You must be aged 18 or over to purchase wine.
© The Big Red Wine Company, Barton Coach House, The Street, Barton Mills, Suffolk IP28 6AA, UK. Tel +44 (0) 1638 510803

Site design by GOL