Domaine Grand Veneur, Châteauneuf-du-Pape
Domaine Grand Veneur is owned by Alain Jaume who, with his sons Stéphane and Christophe, has been raising the game to make this one of the leading estates ofmodern Châteauneuf-du-Pape. The estate is currently in conversion to organic status. More...

£36.00
(Bottle)
2010 Domaine Grand Veneur Châteauneuf-du-Pape 'Les Origines'
Prestige modern-style Chateauneuf.
RP
:
96/100
more details...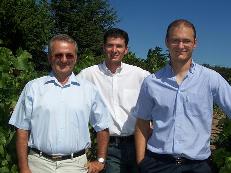 The Grand Veneur range comprises an extremely good red and white Châteauneuf-du-Pape as well as exquisite luxury cuvées in both colours. The Jaumes destem all the red grapes to avoid rusticity. As new techniques have been employed (or, perhaps, old techniques rediscovered, as they include not filtering the wine), improvements have been quite noticeable. The white wines have improved too with a greater understanding of the use of oak.
"Les Origines" in red is a benchmark for the modernist approach with tell-tale new oak supporting the fruit and the white "La Fontaine" is a delicious old-vine Roussanne which also sees a little oak. Unusually for white Châteauneuf-du-Pape (but not for those made with Roussanne) this can improve well over several years. It gives Beaucastel's "Vieilles Vignes Roussanne" a run for its money (at about a third of the price).
Even grander is the "Vieilles Vignes", a very highly sought after red.
To the west, the Jaumes make one of the most striking wines from Lirac, called "Clos des Sixte" and, from just outside the Châteauneuf-du-Pape boundary, a red Côtes du Rhône called "Champauvins".
Click for more about:
Southern Rhône
Châteauneuf-du-Pape
Domaine Grand Veneur
You must be aged 18 or over to purchase wine.
© The Big Red Wine Company, Barton Coach House, The Street, Barton Mills, Suffolk IP28 6AA, UK. Tel +44 (0) 1638 510803

Site design by GOL