Domaine Rotier, Gaillac
Domaine Rotier was purchased in 1975 by Gérard et Michèle Rotier who set about converting and developing the failing vineyards. Back then, grapes were taken to the local co-operative and it was not until Alain became involved in 1985 that they set up their own winery and began bottling their own wines. From this time particular attention was paid to organically working and maintaining the soil. Indeed, no chemical fertilizers have been used since this time.
In 1989, a new range of top-flight wines was born; Renaissance is made in three styles: a robust, long-lived red, a fragrant, complex white and a delicious, intense sweet Gaillac (introduced in 1994). These are surely the best wines from the region and it is these wines we have concentrated on. They are produced using local varieties: Braucol (aka Fer Servadou) and Duras for the red wines, Loin de l'Oeil (Len de l'El) for the whites, all ancient local varieties which contribute to making inimitable wines. Syrah and Sauviognon Blanc find their way into some cuvées too.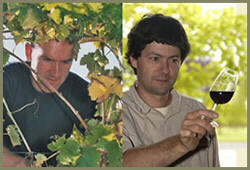 Now Alain and his brother-in-law, Francis Marre, share the responsibilities in this family-owned 35 ha estate (25 ha red grapes; 10 ha white): Francis (left) joined in 1997 to look after the vines and vineyard management whilst winemaking is taken care of by Alain (right) who also looks after sales.
The cellars were further developed in 1990 and again in 1999 and an air conditioning system was added to the maturing and storage cellars; it was also the first year that 100% Gaillac wines were produced at the estate. High-density planting was implemented in 2001 (6170 instead of 4000 vines/ha to improve ripeness and concentration) and from 2005 a more ecological approach to viticulture began, in the hope of growing grapes and making wines that are more natural and more authentic. The abandonment of all chemical treatments helps to stimulate the vines' natural defences and the encouragement of microbiological activity helps improve and sustain the soils for future generations. In 2009, the estate began the three year conversion period to full organic status and should therefore be entitled to use the Ecocert logo from 2012.
Click for more about: South-West France Domaine Rotier
Sorry, no wines were found to match your criteria but please see our En Primeur page as we may be shipping wines for this producer.
You must be aged 18 or over to purchase wine.
© The Big Red Wine Company, Barton Coach House, The Street, Barton Mills, Suffolk IP28 6AA, UK. Tel +44 (0) 1638 510803

Site design by GOL