Burgundy
Many of our favourite wines come from this region which is in the climatic margin for successful Pinot Noir. However, the allure of Burgundy (and the exponential price rises of top Bordeaux in recent en primeur campaigns) has increased demand for the top names and, in tandem with this, prices have risen accordingly. We tasked ourselves with sourcing affordable wines offering high quality. We believe we have succeeded so far!
From north to south, we work with the following estates in Burgundy (click on the estate name to be taken to a different page):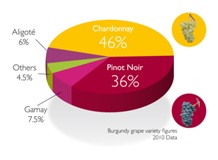 Burgundy conjures up images of classic but expensive wines beyond reach. Indeed, some of the world's finest wines hail from the region and many less conscientious producers take advantage of this by producing inferior wines at inflated prices. This makes it essential either to follow recommendations of friends or reliable critics or just to take the plunge.
The two main grapes in Burgundy are Pinot Noir for the reds and Chardonnay for the whites. Pinot Noir is a fragile variety which is easily spoilt by excessive fining and filtration so it is better to accept some sediment in even a fairly young wine rather than the loss of fruit and body. The better producers are waking up to this and minimal clarification is now practiced at the better estates. Chardonnay is the world's favourite white wine variety and, as such, needs little introduction. However, for all the efforts of so many New World producers as well as many in France, Italy and Spain, the soils and climate of Burgundy are so well suited to this variety that in the best years unrivalled Chardonnays are produced in Chablis, the Côte de Beaune, the Chalonnaise and the Maconnaise.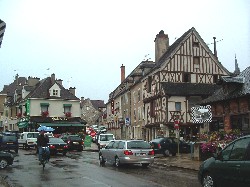 Chablis is the most northern of Burgundy's wine-producing districts (hence this photograph taken in the rain on an otherwise hot August day) consisting of around 7,500 acres of Chardonnay vines in the Yonne département, over 60 miles north of Beaune. There are four levels within the appellation which was created in 1938 - from the top:

Grand Cru (seven named vineyards) needing 10 years maturation;Premier Cru (forty vineyards) which requires at least 5 years in the bottle;generic Chablis;Petit Chablis.

Chablis is typically a steely dry white wine with pronounced mineral notes. Use of oak has been controversial: most producers do not use oak, believing that it masks the crisp character of the wine. For some it is entirely superfluous as mature Chablis can taste as though it has benefited from oak maturation even when it hasn't. However, some producers are now experimenting with oak with mixed reactions. Our preference is for the classic style - ie. unoaked (certainly they didn't use oak in 867AD when the Chapter of St Martin first planted the vineyard by permission of Charles the Bald).

1996 was an excellent vintage, producing classic Chablis with ripe, concentrated flavours and firm acidity, requiring some bottle age to be at their best. 2000 and 2002 are more recent vintages to look out for. 2003 was too hot to produce anything really good but 2004 was back on track with some great wines and 2005 one of the very best of recent vintages (as in most of France).
Perhaps the most complicated wine region to come to grips with, the Côte d'Or is not, in fact, the "golden slope" but an abbreviation of Côte d'Orient, so-called because the very best slopes are to the east. The northern section, the Côte de Nuits, produces great red wines exclusively from Pinot Noir. Heading south from Beaune, the Côte de Beaune produces elegant reds and the finest Chardonnays. Further south is the Côte Chalonnaise, home to such villages as Givry, Rully and Mercurey where some of the best value Pinots and Chardonnays can be found.

At the top of the ladder are the Grands Crus (maximum yields of 35hl/ha for reds and 40hl/ha for white wines), followed by the Premier Cru and village wines (40hl/ha and 45hl/ha respectively). Given that vineyard plantings are particularly dense at up to 10,000 vines per hectare (4,000 per acre) and that most vineyards are harvested manually, there is considerable scope for selection of only the best grapes.

The region has enjoyed a run of good to very good vintages throughout the nineties (with the exception of 1994) culminating in the outstanding 1999s (more recently, 2002 and 2005 are the vintages to look out for). However, because there are so many small parcels of separately owned vineyards, it is more important to know which producers to look out for (as opposed to those who are merely trading on the Burgundy name) than looking at vintages. Trial and error is a sure but expensive way to achieve this; recommendations from friends, reliable wine merchants or critics can help point the less experienced in the right direction.

We are thrilled to be working with Domaine Joblot, widely regarded as the best estate in the Chalonnaise, and Jacques Girardin, recently taken over by the young Justin Girardin who is taking his family's domaine in Santenay to a new level. More recently, Juliette Joblot introduced us to Antoine Lienhardt, who is beginning to make a name for himself from his base just outside Nuits St Georges.
Whilst technically the southernmost region of Burgundy, the Beaujolais is in many ways a different world. Whereas the principal grape for red wines further north is Pinot Noir, the Beaujolais is the home of the Gamay grape. It is, perhaps, best known for Beaujolais Nouveau, a very light wine which appears on the shelves every November on the third Thursday (known as "Beaujolais Day"). These first releases are simple, often one-dimensional, light wines for immediate drinking and, unfortunately, many people have the impression that all Beaujolais wines are in this mould. In fact, the region produces some excellent wines in ten village appellations, known as the Crus, of which Fleurie is, perhaps, the best known in the UK. With only a few years' bottle age, the quality of the Gamay fruit grown here can be rich enough to trick connoisseurs into believing that they are drinking mature Pinot Noir.

Photographs: the Chapel of the Madonna, Fleurie and the village of Fleurie (the chapel is high on the hill in the distance)
| | |
| --- | --- |
| With the exception of 1992, the nineties witnessed a run of very good to excellent vintages, and since the Millenium, almost every vintage has been successful. Gamay does not seem to give too many headaches in the growing stages at least. | |