Fabrizio Battaglino, Vezza d'Alba (Piemonte)
"Among the top producers of Roero... flawless wines full of delicious fruit, carefully designed for delightful drinkability" (Gambero Rosso 2013)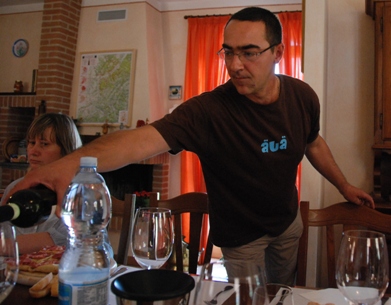 Fabrizio Battaglino's family's estate dates back to the early 1960s when Fabrizio's grandfather, Riccardo, became one of the first independent growers in the Roero district to produce estate-bottled Barbera and Nebbiolo although in those days much of the crop was sold to the local co-operative.
Since then, the family's wines have been recommended in Luigi Veronelli's wine guide (from 1973) and, more recently, in Gambero Rosso with a Tre Bicchieri award in the 2011 Guide (only Fabrizio's second year in the guide!), much deserved recognition of Fabrizio's efforts.
As with many other estates throughout Piedmont, production is necessarily small as there are only four hectares of vines at 350 metres altitude in the Colla and Munbèl hills around Vezza. planted to Nebbiolo, Barbera and Arneis which make wines from Nebbiolo d'Alba, Roero, Barbera d'Alba, Roero Arneis as well as an exotic, possibly unique late-harvest Arneis.
In August 2011, we enjoyed an extremely friendly welcome when we first visited Fabrizio at the cellars beneath his parents' home. Fabrizio was immediately very welcoming to the whole family, something which Italians are famed for but you have to experience it first-hand nonetheless. He immediately came across as a sensitive person, something which is reflected in his wines.
Fabrizio's full review in the 2013 Gambero Rosso reads as follows:

"Fabrizio Battglino's small winery seems to have returned for good among the top producers of Roero. The vineyards are at Vezza d'Alba, on the steep sloping hills of Colla and Mombello, where soils are sandy and face south at an altitude of 350 metres above sea level. The classic variieties of Roero are grown, Arneis, Nebbiolo and Barbera, and tradition is interpreted to craft a series of technically flawless wines full of delicious fruit, carefully designed for delightful drinkability."
See blog: First taste Estate visit With food Roero 2009
Click for more about: Fabrizio Bataglino Piedmont
6 wines available:
---
£11.50 (Bottle)
£69.00 (Case of 6)
£45.00 (Case of 6 in bond)
Buy
---
Buy
---
£15.00 (Bottle)
£90.00 (Case of 6)
£63.00 (Case of 6 in bond)
Buy
---
£16.00 (Bottle)
£96.00 (Case of 6)
£69.00 (Case of 6 in bond)
Buy
---
£16.00 (Bottle)
£96.00 (Case of 6)
£69.00 (Case of 6 in bond)
Buy
---
£18.00 (Bottle)
£108.00 (Case of 6)
£84.00 (Case of 6 in bond)
Buy
---