Gigondas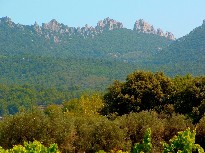 We work with Domaine Brusset Famille Perrin Xavier Vignon
Situated by the stunning Dentelles de Montmirail (see picture, left), a jagged tooth-like rock formation, Gigondas was one of the original Côtes du Rhône Villages, elevated to appellation status in 1971 since when it has slowly built a reputation as a better value and often superior alternative to Châteauneuf-du-Pape (Châteauneuf producers were, understandably against this move). Soil types are mostly stony red clay alluvium on the slopes and wide terraces producing wines that are typically robust, chewy, full-bodied, rich, generous, powerful (the descriptions could go on and on) which are not easily forgotten.
The 1,230 hectare appellation, surprisingly, is still not well known despite the high quality of many of its wines. Many remember the village for its association with Burgundy: not so long ago Gigondas (along with Châteauneuf) was sold by the tanker to Burgundian négociants who used it to fortify and enrich many of their own wines. Amazingly in the modern world where it is essential to be seen to be beyond criticism, several Burgundian firms still list Gigondas wines.
Gigondas is best known for its red wines which comprise around 95% of its 41,250hl production. Cépagement for the reds is a maximum of 80% Grenache Noir and a minimum of 15% Syrah and Mourvèdre. In addition, with the exception of Carignan, a maximum proportion of 10% of all the other grape varieties within the appellation are permitted. A small amount of rosé is also produced but no white wine.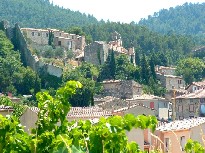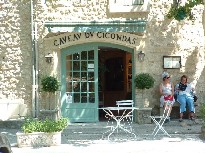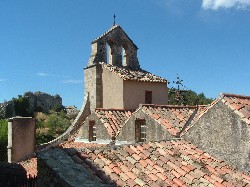 As with most of France, Gigondas enjoyed a run of stunning vintages in 1988, 1989 and 1990. In contrast to Châteauneuf, Gigondas produced some decent wines in 1991 but 1992 was a write-off (due to heavy floods in the vineyards). 1993 produced very solid wines with a decade's worth of ageability; 1994 was less regular with some very good wines. 1995 was a great year for the appellation with many wines surpassing those of Châteauneuf. 1996 and 1997 produced less powerful wines with low acidity (for early drinking) and 1998, as with Châteauneuf, yielded some fabulous wines, many of them the best since 1990. 1999, however, was even better (in my experience, at least) with sweeter, richer fruit and softer tannins making the wines more accessible at a younger age.
2000, as in Châteauneuf, was a stunning vintage in Gigondas although the wines do need a considerable time in the bottle to knit together the fruit, tannins and acidity. 2001 was slightly less consistent but the best were better than 2000. 2002 was a re-run of 1992 (a very few good wines were made, a testament to the hard work and improved understanding of vignerons). 2003 is another vintage in which selection is paramount: there were some great wines, some which are unbalanced. 2004 was a return to form and, as elsewhere, 2005 was a truly magnificent year. 2006 was very good but inevitably eclipsed by the stupendous wines of 2007. 2010 and 2015 both produced long-lived wines and 2016 some of the best Grenache-based cuvees in memory, especially from the high altitude vineyards in the Dentelles de Montmirail.
You must be aged 18 or over to purchase wine.
© The Big Red Wine Company, Barton Coach House, The Street, Barton Mills, Suffolk IP28 6AA, UK. Tel +44 (0) 1638 510803

Site design by GOL