Giulia Negri, La Morra (Piemonte)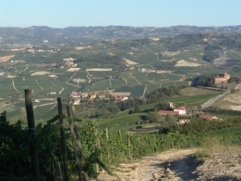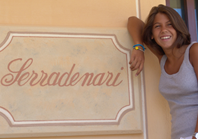 Giovanni Negri who owns the small vineyard at Serradenari, the highest Barolo vineyard, has, slightly lower down the hill, another tiny vineyard where the Giulia Negri (pictured, right) wines come from. The light sandy soils are responsible for very elegant yet structured wines which are aged in small oak barriques.
The vineyard is sandwiched between the house at Serradenari and the 7 hectare truffle forest at the edge of the small estate, home to wild boar. They overlook a stunning view across the flat plains which used to be the sea bed in pre-historic times with the Alps in the distance (see photo, right)
There are just two wines produced here on vines which are trellised high to prevent the wild boar eating all the grapes: a superb Barolo and stunning Langhe Chardonnay from vines grafted from a well-respected Meursault vineyard and planted by oenologist Roberto Cipresso in the coldest, north-facing terrain bordering the truffle forest. Both exhibit a delicious mineral freshness and elegance from the sandier soils they are grown on.
Production of wine is tiny: only around 3,000 bottles of each wine is made.
See also Serradenari Piedmont
Sorry, no wines were found to match your criteria but please see our En Primeur page as we may be shipping wines for this producer.
You must be aged 18 or over to purchase wine.
© The Big Red Wine Company, Barton Coach House, The Street, Barton Mills, Suffolk IP28 6AA, UK. Tel +44 (0) 1638 510803

Site design by GOL