Tenuta Serradenari, La Morra (Piemonte)
The highest Barolo vineyard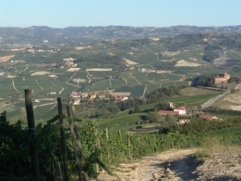 A document dated September 30th 1880, and preserved in the local land register describes Serradenari as the place "where there is about five days' worth of Barolo and Barbera." This document contains detailed illustrations of the ancient vineyards planted in exactly the same south-south-westerly vineyards that produce the best Nebbiolo grapes today, used to produce the Serradenari Barolo.
Serradenari also has north-northeasterly vineyards which provide the raw materials for other wines including Pinot Noir, used as the base for the "Renoir" Langhe Rosso.
Today, Serradenari is owned by the descendent of the 19th Century Diatto-Negri family which first began exporting the wines to the USA, Giovanni Negri. Together with winemaker Roberto Cripresso and his staff, the team produces a fairly comprehensive range of Langhe red wines as well as "Renoir" and some intriguing Chardonnay (there is clearly a passion for Burgundy here!). Production of wine is limited to 30,000 bottles per year.
Serradenari spreads over 13 hectares (32 acres) of land, of which 7.5 hectares (18.5 acres) are woodland and the remaining 5.5 hectares (13.5 acres), vineyards planted with an array of grape varieties. Although all grape varieties produced in these vineyards yield wines of the highest quality, the vineyards themselves vary in altitude, exposure, and soil composition. The house divides the vineyards between those bottled as Serradenari and those bottled as Giulia Negri, wines of supreme elegance and sophistication, from a small vineyard between the house and the truffle forest.
See also Giulia Negri Piedmont
6 wines available:
---
£11.00 (Bottle)
£66.00 (Case of 6)
£42.00 (Case of 6 in bond)
Buy
---
£11.75 (Bottle)
£70.50 (Case of 6)
£48.00 (Case of 6 in bond)
Buy
---
£12.00 (Bottle)
£72.00 (Case of 6)
£48.00 (Case of 6 in bond)
Buy
---
£17.50 (Bottle)
£105.00 (Case of 6)
£75.00 (Case of 6 in bond)
Buy
---
£18.50 (Bottle)
£111.00 (Case of 6)
£81.00 (Case of 6 in bond)
Buy
---
Buy
---